Outsourcing of IT specialists
According to the definition, outsourcing is the use of services and resources of external companies in order to increase the efficiency of the conducted activity. Similarly to the implementation of commissioned projects, IT outsourcing is an offer addressed to companies running or just starting their activities that do not have a large or experienced IT team to carry out a comprehensive project. Depending on the needs, we offer one of the three types of outsourcing:
Body leasing
of experts (rental)
Recruitment
process outsourcing
Sometimes deciding which type of cooperation to choose is quite difficult for people from outside of the IT industry. That is why we support our customers also at this stage – suggesting a solution appropriate to their needs.
Outsourcing    =    quality  +  saving  +  efficiency
One of the principles we at TravelTECH value greatly is confidentiality. We guarantee our Customers that the ideas or information entrusted by them will be treated as strictly confidential and will not be made available to others than delegated employees (unless it is necessary) or outside the company without explicit instructions!
The advantages of outsourcing
Outsourcing, in a nutshell, means savings. Time saving, money saving and risk minimization.
No need for a long and expensive recruitment process
No need to keep an employee in the case of no tasks for them
No risk of hiring an incompetent or inappropriate person
No risk of employee rotation
Significantly reduced risk of project failure
Guarantee of experience, knowledge and commitment
Outsourcing of IT teams
The outsourcing offer is always tailor-made. Every day TravelTECH employs several dozen specialists in various fields, with varying degrees of experience and knowledge of technology. Among them are:
Experienced systems analysts
System and database architects
System administrators (DevOps)
Project managers
UI/UX specialists
Graphic designers and developers
Back- and front-end developers
Testers
Implementers
SEM/SEO specialists
Thanks to such a wide range of competences, we are able to build such a team that, on the one hand, it meets the requirements, and on the other, it is as cost-effective as possible.

There are also a few undeniable advantages of TravelTECH outsourcing:
First – our specialists understand each other without words – thanks to the fact that they have been cooperating with each other for a long time. Thanks to this, we largely avoid misunderstandings and delays resulting from a lack of or incorrect communication between employees.

Second – despite the fact that the hired team includes specific specialists, they use not only their knowledge, but also the knowledge and experience of the entire TravelTECH team.

Third – immediate replacement of a specialist from the team with another TravelTECH engineer in the event of their illness, vacation or unavailability.
In most cases, the settlement is based on the Time & Material principle, and the price depends on the number of hours contracted (the minimum number of man-hours per month is 320).
Outsourcing of specialists
Some projects are not big enough to require a separate team. Sometimes there are also situations when a company suddenly loses one of its specialists or needs to implement a quick micro-project. In such situations, it is a good idea to consider leasing (hiring) a specialist, i.e. a person with specific skills (usually a programmer), who may join the Customer's team for a short period of time.
The advantages of such a solution are identical to the advantages of team outsourcing. However, it is worth emphasizing that despite the fact that the Customer "hires" only one employee – they have access to all the knowledge and experience accumulated in TravelTECH!
In most cases, the settlement is based on the Time & Material principle, and the price depends on the number of hours contracted (the minimum number of man-hours per month is 80).
Recruitment process outsourcing
The offer is addressed to companies that want to create their own IT department or for various reasons do not want to conduct recruitment themselves. For many years TravelTECH has been independently and successfully recruiting IT specialists. In our history, we have conducted over 300 interviews for our own and our customers' needs, eventually employing over 100 people.
The recruitment process is typically handled as follows:
Analysis of the needs and creation of an ideal candidate profile and definition of minimum requirements
Passive search for candidates – preparation of an advertisement and placing it on websites
Active search for candidates – using our own network of contacts
Verification of applications
Conducting an interview (in person) consisting of several parts:
the introduction – presentation of the company, offered position, description of projects
the general part – allowing to determine the history, characteristics and expectations of the candidate
the part allowing to determine the soft skills
the substantive part – theoretical
the substantive part – practical
Creation of a report comparing the candidates and suggestion of choices
Possible assistance in the employment and onboarding of the candidate
In most cases, the settlement is based on the Time & Material plus success fee basis. We guarantee that a certain number of interviews will be conducted and all materials will be provided. We recruit in accordance with the requirements of the GDPR
Are you interested in outsourcing?
We will propose an optimal solution for your business!
Our outsourcing projects
Customization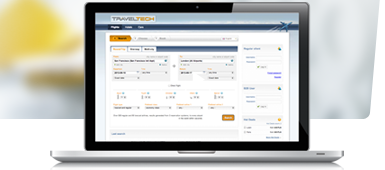 Each Customer has their own vision of their website. Therefore, the TravelTECH systems have been prepared in a way that allows them to be adapted to the expectations of the customer. Based on proprietary solutions, we build tailor-made systems.
IT Projects

The implementation of IT projects per request is one of the pillars of TravelTECH's activity. We provide not only development, but also assistance in analysis, creating documentation, implementation and maintenance. We specialize in building large systems and advanced solutions, and in using our unconventional approach.
Ads campaigns

How do you quickly promote your own website on the Internet? How do you quickly attract customers to a new online store? The answer is Google Ads campaigns (formerly Adwords). At TravelTECH, we know how to do it effectively without "wasting your budget".
Website Development

An attractive, easy to navigate, fast and well positioned website is the best showcase of any business! We are happy to use our experience to design and implement a modern and responsive website for your company!
Ecommerce Solutions

Are you looking for a technology partner who will create a scalable and efficient online store or an integrated e-commerce platform? Do you want to outsource hosting and administration to focus on your business? Take advantage of the experience of TravelTECH specialists!
Google Partners
The knowledge, experience and commitment of TravelTECH Specialists has been appreciated by Google! TravelTECH belongs to the network of certified Google Partners!


Applied technologies