Google Ads campaigns (Adwords)
How do you "make it on the web" in a short time? How do you quickly reach potential customers and present your offer to them? How do you quickly increase revenues, profit or conversion? These questions are asked by hundreds of companies that decide to launch online sales. Contrary to appearances, the answer is very simple. Over 90% of Polish Internet users (out of all 29 million in Poland and 400 million in Europe) use the Google search engine. In order for a company website or store to appear among the results presented by Google, two types of activities are carried out: organic positioning and Ads advertising campaigns (formerly known as Adwords). Of course, there are also other electronic promotion channels, such as social media, YouTube or mailing, used to a greater or lesser extent, depending on the target group and the advertised service or product. It is a truism to say that effective e-marketing requires a holistic approach. However, Ads / Adwords campaigns bring results the fastest.
The knowledge, experience and commitment of TravelTECH Specialists has been appreciated by Google! TravelTECH belongs to the network of certified Google Partners!


Online Google Ads (Adwords) campaigns allow you to reach potential customers in no  time!
Conversion and return on investment (ROI)
An obvious fact – effective marketing activities should take into account all possible areas, and the advertising expenditure must be proportional to the conversion achieved. What is conversion? It is a very broad and flexible concept that changes its meaning depending on the goal (most often, conversion is understood as the quotient of visits by the number of sales). This, however, shows that advertising activities cannot be carried out without a numerical analysis of the results. This is the only way to track trends in marketing effectiveness and measure the most important indicator in e-commerce – return on investment.
It should be remembered that online advertising is not the only element influencing the success of an e-commerce venture or the popularity of a website. Without an appropriate pricing policy, an intuitive website, and an attractive product, even the best Ads (Adwords) campaigns will not be successful. That is why one of the principles of our activity is constant contact with the customer, cooperation with their marketing and IT department. What is more – we do not limit ourselves only to reporting the results of conducted campaigns, but also analyze the Ordering Party's websites and SEM and SEO activities on an ongoing basis and suggest changes!
Thanks to the extensive knowledge of TravelTECH specialists, we suggest solutions
and methods of website optimization leading to increased profit..
An effective Google Ads (Adwords) campaign
Running a Google Ads (Adwords) campaign is not only about the ability to use the campaign editor. Without knowledge of the principles of indexation mechanisms, and of such popular tools as Google Analytics, Google Tag Manager, Google Optimize, business intelligence tools and many others that TravelTECH specialists use on a daily basis, it is impossible to conduct effective marketing activities or manage advertising campaigns.
6 stages of running a Google Ads (Adwords) campaign
Determining
Ads campaign goals (Adwords)


Indicator
selection
(KPI)

Examining
the activities of the competition

Setting up
analytical tools


Building and setting up Ads campaigns (Adwords)


Monitoring, analysis and result optimization


Costs and guarantees
All our projects, including those in the area of e-marketing, are tailor-made. It requires an unconventional approach, a lot of knowledge and commitment. The cost of our services depends primarily on the necessary workload – we settle accounts in the time & material model. We always run all Ads (Adwords) campaigns on accounts belonging to the customer who independently settles with Google (we suggest how). We also enable termination of the contract for advertising campaigns with only one month's notice. This approach guarantees the customer that the possible change of the operator of the Ads (Adwords) campaign will be trouble-free and the effects achieved by that time will not be lost.
Are you interested in Google Ads campaigns?
We will propose an optimal solution for your business!
IT Projects

The implementation of IT projects per request is one of the pillars of TravelTECH's activity. We provide not only development, but also assistance in analysis, creating documentation, implementation and maintenance. We specialize in building large systems and advanced solutions, and in using our unconventional approach.
Website Development

An attractive, easy to navigate, fast and well positioned website is the best showcase of any business! We are happy to use our experience to design and implement a modern and responsive website for your company!
Customization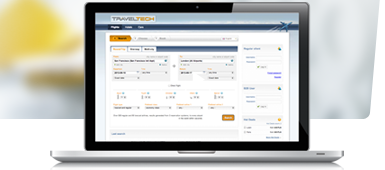 Each Customer has their own vision of their website. Therefore, the TravelTECH systems have been prepared in a way that allows them to be adapted to the expectations of the customer. Based on proprietary solutions, we build tailor-made systems.
Applied technologies